Cupcakes Company
Cupcakes Company was founded by longtime best friend Medina Aprilia and Wynda Mardio. Their friendship and love to good food gave birth to our scrumptious cupcakes recipe.
Medina and Wynda opened Cupcakes Company in June 2011. Now baking more than 50.000 cupcakes per month and lots and lots of desserts, Cupcakes Company is growing to satisfy your needs of fresh, moist & scrumptious cupcakes and desserts, made from crafted ingredients.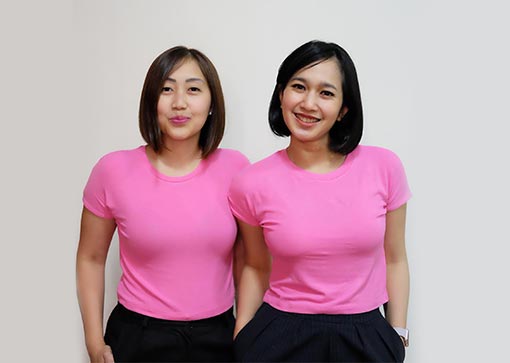 Promotions & Offer
Get special promos and offers from Cupcakes Company
"
Gw pesen Jar Cake mereka yang isinya itu ada Nutella Rocher, Choco Smores, Redvelvet dan Tiramisu. Semuanya gw suka2 banget dan favorit gw si Nutella Rocher dan begitu digigit langsung berasa remahan coklat Ferrero
- Kelvin Sky

"
Cake Box dari @cupcakes_co ini wajib bgt kamu coba dan nikmati bersama keluarga tersayang dirumah. Semuanya the best sih, cakenya lembut, manisnya pas ga bikin enek. Cucok buat temen nyantai bareng yg tersayang dirumah. Bisa jg buat kamu kirimin ke sahabat/kerabat/kolega karena packaging boxnya cakep jg loh
- limcecil0909

"
Kuenya lembut dan toppingnya gak pelit sama sekali, udah gitu lapisan dasarnya pakai crumble jadi pas dimakan ada tekstur crunchy2nya! Yang aku pesein ini ada rasa Skippy Peanut Butter, Durian, Ovomaltine & Lotus Biscoff. Skippy sama Lotusnya juara kelas pokoknya, mantap djiwa. Kalian harus coba!
- bobyliecious

"
Thank God for this awesome Cake Box from @cupcakes_co. I have Strawberry Cheese, Almond, Choco Crunchy, and Lotus Biscoff. Please tell me, which one is your favourite!
- ivanmarchius

"
Nemuin jar cake yg bener-bener melekat di hati. Cobain 4 varian rasanya: Green tea, Tiramisu, Banoffee, Choco smores. Semuanya juara dan berasa bahan-bahannya premium, manisnya gak lebay, bikin nagih banget.
- sundaymondayfoodie

"
Buat kalian yg suka coklat pasti suka sama Cakesicle ini!! Rasanya tuh nyoklat banget~ Cakenya juga lembut dan enak, manisnya ga over dan coklatnya premium! Bentuknya juga gemesh-gemesh sekalii~
- eatandclicks

"
Aku cobain cakesicle yg rasa Chocolate Caramel, kalo kamu yg suka coklat sih fix bakal suka banget sama cakesicle ini, rasa coklatnya lumer banget di mulut
- jktfoodpoint
"
Semua cake box mereka ada tekstur yg beda. Semuanya creamy, cakenya soft + ada tekstur crunchy atau chewy (yg coffee jelly aja sih yg chewy). Unik & pleasant. One of the best dessert box that I have ever tried!
- bellyculinary

"
Paling suka sama chocolate crunchynya dan coffeenya, OMG enak bgt!! Cakenya ga hancur lembek benyek gitu lho, tapi teksturnya pas! Dan perpaduan rasa cupcakenya dari layer ke layernya itu nyatu dan enak bgt di mulut!
- jktfoodbomb

"
Dua varian yang aku suka ini ada Strawberry Cheese Cake Box dan Lotus Biscoff. Untuk manisnya menurutku sesuai untuk versi cake, creamy dan pastinya jangan hitung kalori ya. Seru banget nih bisa dijadiin ide kado untuk kerabat atau teman
- sobatlapar